Renew, Rebalance & Restore
Why do we need to exfoliate?
Dehydrate Skin – To remove accumulation of dead skin cells and boost the skins capacity to retain water.
Oily Skin – To unclog pores and remove sebum from the Skin
Dry Skin – To remove dead skin cells and restore skin lipids.
RRP: £26.00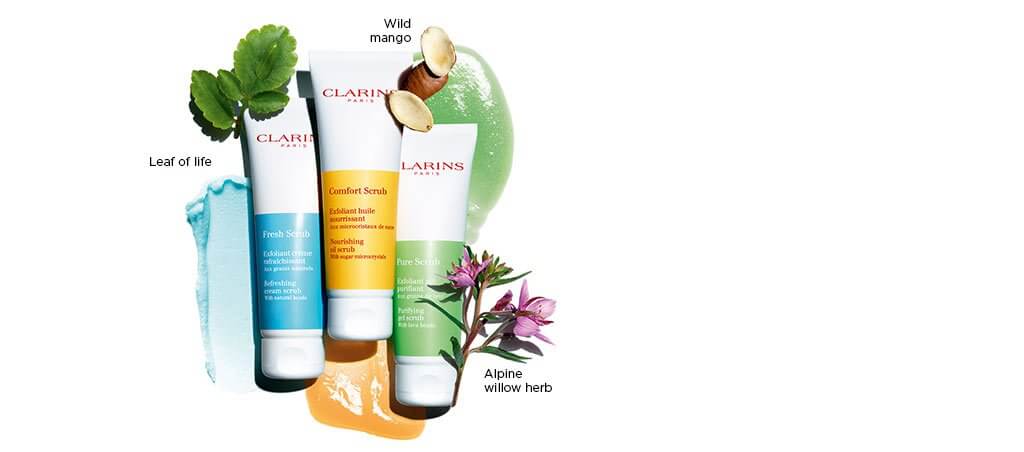 Comfort Scrub – Nourishing oil scrub with sugar microcrystals 50ml
Enriched with wild mango butter to help nourish and smooth the skin
Skin is soothed and luminous
Perfect for women who want soft and nourished skin
comfort scrub is also suitable to use on your lips.
Pure Scrub – Purifying gel scrub with lava beads 50ml
Enriched with organic alpine willow herb extract to help rebalance the skin
Smoothes, purifies and mattifies skin
Great for oily to combination skin
When to Exfoilate?
The best time of the day to exfoliate is the morning as your skin renews itself at night.
All Scrubs have no parabens, Mineral oils or Sodium Lauryl Sulphates.
To renew the skin, remove dead skin cells, hydrate and enhance radiance use New Scrubs, SOS Masks and Face Treatment Oils. We have a restore range to help soothe and enhance the body with our sensorial Bath and Shower Concentrates, Body Oils and Tonic Balm.